This blog was written by Ashleigh Keating.
Last month, I was selected to represent Australia – and Children and Young People with Disability Australia – at a United Nations convention in New York. After the convention, I took a personally funded holiday with my family through Canada and the west coast of America.
The last time I did any long-haul flying, I became very unwell and had to be medically evacuated, so I was very nervous about flying. To help ease my nerves, I thought I would use my sunflower lanyard. The sunflower lanyard is part of the Hidden Disabilities Sunflower Program to help those like me who have a hidden disability in areas such as airports, showing workers in a discreet way that we might need further support and understanding and access to things such as priority lines.
The first airport on my trip was Sydney International. To my surprise, they were fantastic at recognising this program. I had access to well signed priority lines throughout the airport. Except for one security person who kept telling me what to do when I was just trying to process how I was going to do it, the process was, overall, great.
After 14 hours, I landed in Los Angeles, thinking that after my fantastic experience at Sydney airport, I would have the same at LAX.
Coming through LAX, I noticed there wasn't any kind of signage to show the sunflower program was on offer.
I didn't think much of it until 24 hours later when I came back to LAX domestic where, again, we didn't see any kind of acknowledgment of the program. My mum decided to ask an airline agent about it, only to get told it's not recognised.
I was quite surprised, considering how much of a hub LAX is for people flying into the States, especially for Australians.
This, unfortunately, was the standard at every airport I went through in the US and Canada. 
Miraculously, I managed to mask my Autism through the airports until I reached Toronto. With a combination of an early flight, poorly signage, and uneducated workers, I was set up to fail.
I began to have a meltdown in the middle of airport security, so my parents had to step in. They tried to ask for assistance and mentioned I'm a part of the sunflower program. The security guard looked at my parents as if they had two heads.
After this interaction, I basically gave up on using my lanyard. I was so frustrated, as this program is constantly advertised as something that is supposed to help those like me in areas such as airports. How is it supposed to help me when there are airports that don't acknowledge it?
Ironically, it wasn't until I was leaving a small Canadian town called Nanaimo (roughly the size of Bendigo) that I saw a sign saying they participate in the program.
I couldn't help but laugh that such a tiny airport was willing to take the time to train their staff in this program, but the big airports couldn't be bothered.
A week and a half later, it was time for me to return home. Flying into Sydney, I had hope. Considering how great my experience leaving Australia was, it should be just as good as a returning passenger, right?
Wrong.
Coming back into the country, I had to deal with the Australian Border Force (ABF) and agriculture.
Not only was there no sign for a priority line, no ABF officer checked in with me or my parents to see if I could cope with a loud, busy, overstimulating area after flying for 14 hours. Agriculture also attempted to separate me from my parents.
I've been left really confused about my dealings with airports and the Sunflower Program.
First, what's the point of the Sunflower Program if the support for it is patchy? I constantly see this program advertised to me on social media, saying it's internationally recognised and that it is supposed to help those like me in areas such as airports, but it hasn't.
Not only is it not fair to disabled people to give us false hope, but it is also not good enough that airports and government agencies such as ABF are not keeping up with the times when it comes to the implementation of support for those with a hidden disability.
Disabled people have every right to travel, so why are major airports such as LAX and Toronto not wanting to make their spaces inclusive for disabled people?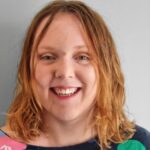 Ashleigh Keating writes about her experiences using the Hidden Disabilities Sunflower lanyard in North America.